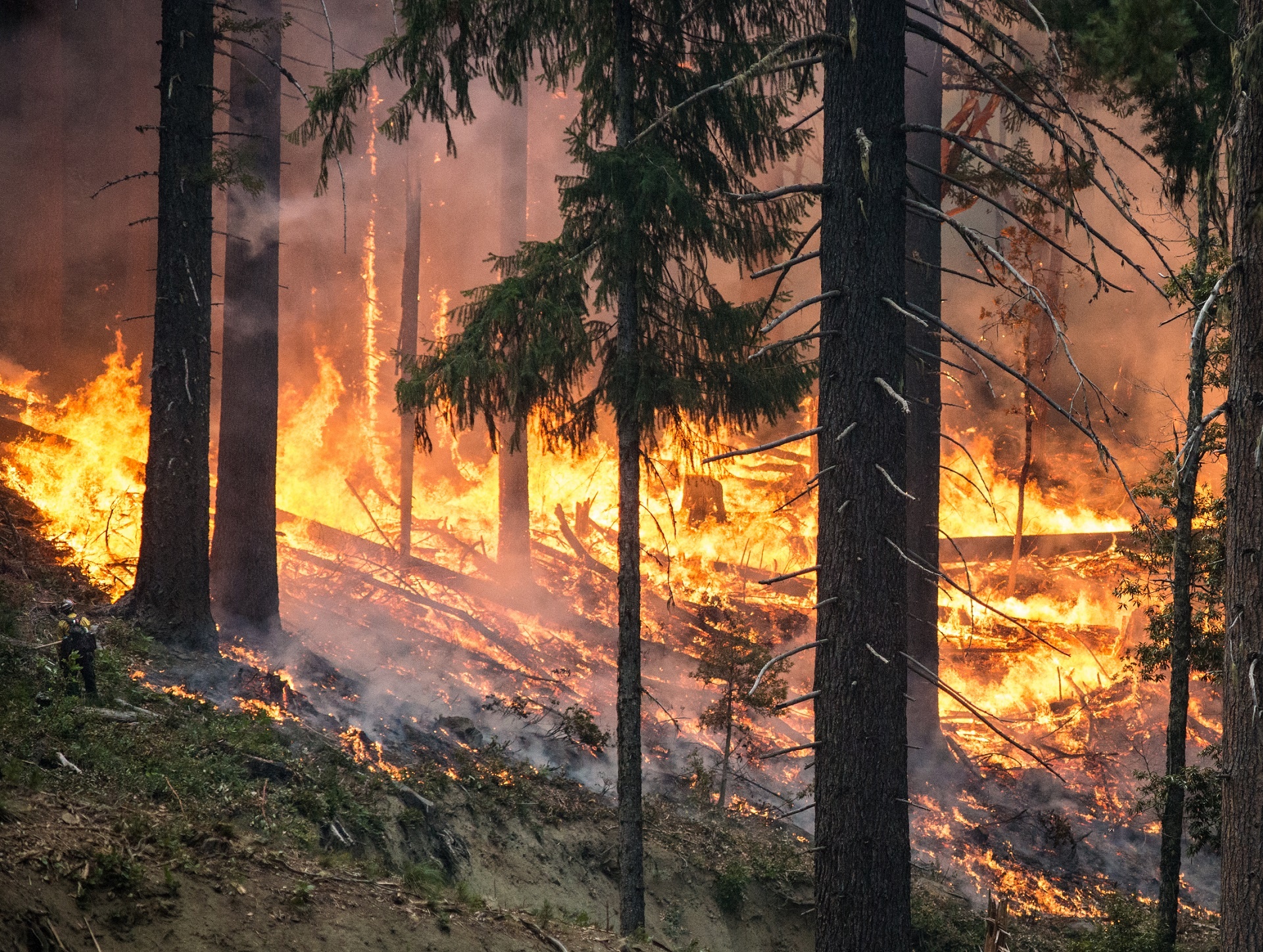 By mid-May, most of the United States entered its third month of stay-at-home orders to slow the spread of COVID-19. In the midst of this pandemic, however, a new threat has emerged: the start of the 2020 fire season.
Over the last month, Cal Fire has announced the official start of the fire season for several counties across California. Additionally, the National Interagency Fire Center (NIFC) has reported intermittent fires in multiple states, most prominently in Florida.
In the June edition of their monthly seasonal outlook, the NIFC noted "Above Normal significant large fire potential" in several regions across the country through September.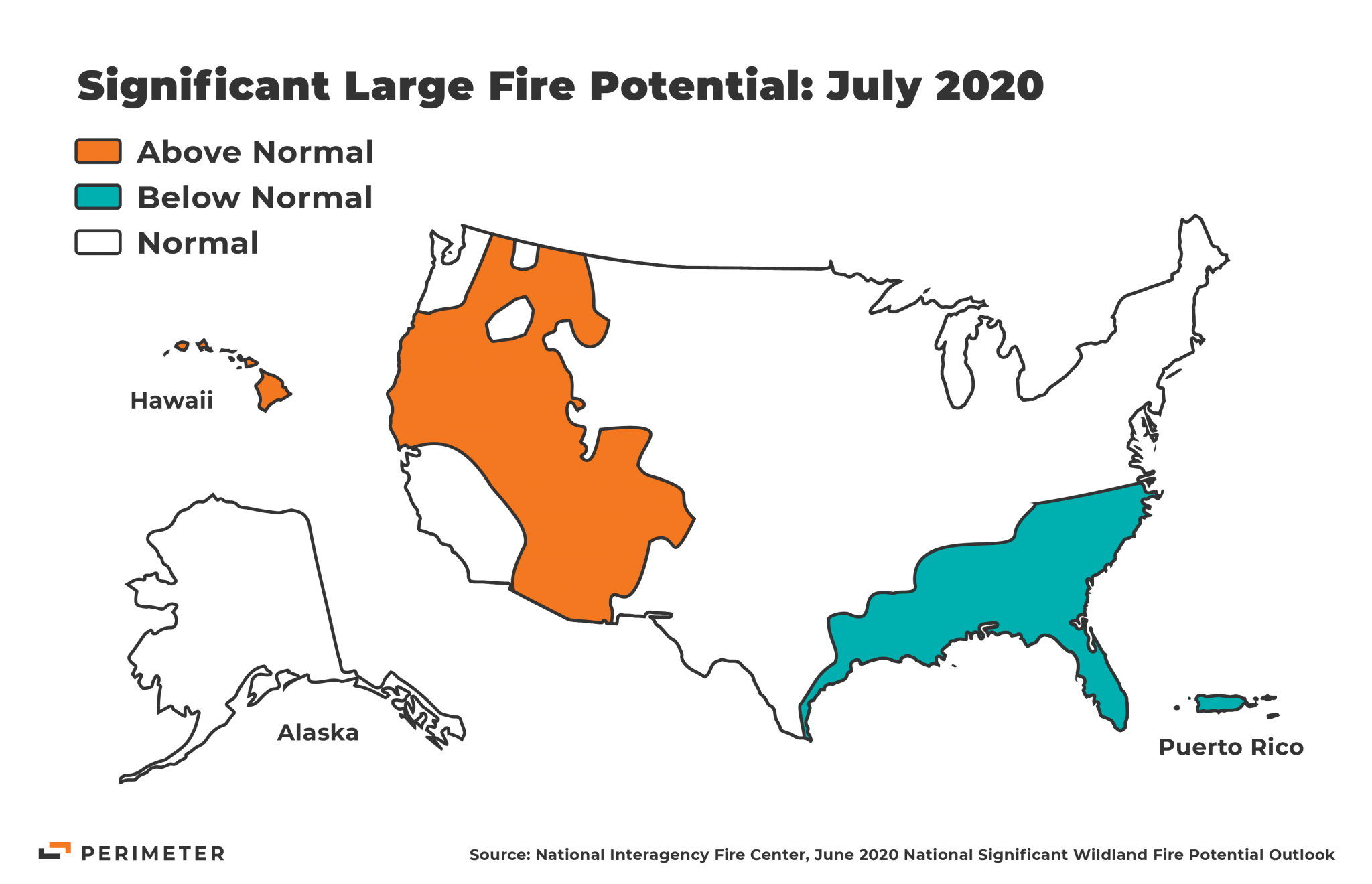 Above-average rainfall across Southern California this spring has helped mitigate fire risk over the summer.
For Northern California, however, the NIFC's outlook cites warmer and drier weather patterns starting in April, which are projected to continue through the summer. The estimated loss of nearly all high elevation snowpack by early June will substantially limit future water supply, and unfavorable conditions could result in highly flammable grasses.
The coming months bring potentially devastating risks to the U.S., if the last three years are any indication. With the coronavirus expected to continue spreading throughout the summer, those risks are greater than ever.
The challenges of social distancing for first responders
Maintaining social distancing is already difficult for public safety personnel. As the pandemic continues to unfold, agencies have explored new tactics to keep first responders safe during day-to-day management of the coronavirus.
Although these tactics have been essential for expanding situational awareness and providing a foundation for incident response strategies during the pandemic, fire season will usher in new and unique challenges for first responders.
As outlined in an NPR report, base camp organization in particular will need to change drastically before the next major fire.
Base camps are established for larger wildfires that last for prolonged periods of time and require more than an initial response. Camps can vary in size based on the incident, and often involve hundreds or thousands of individuals, including caterers, contractors, and the firefighters themselves.
Incident staff are housed in dense rows of tents and provided meals in a communal mess hall; both of these practices are generally incompatible with COVID-19 social distancing measures.
According to NPR, public safety experts are considering solutions like replacing large sites with smaller camps, offering to-go meals, and relying more on aircraft and tactical teams that can more widely disperse responders.
However, none of these plans fully mitigate exposure risk, and most require substantial resources that are difficult to acquire as COVID-19 continues to spread. Federal agencies have released guidelines for protecting responder safety, like the CDC's "FAQs for Wildland Firefighters", but many are difficult to implement.
For instance, the CDC's suggestion for managing incidents that involve personnel from many geographic regions is to provide each crew with space to isolate for 14 days. In the likely case that this is not possible, the CDC recommends approaches like increasing ventilation, providing face masks, and disinfecting shared spaces frequently, all of which require resources that many departments are already lacking.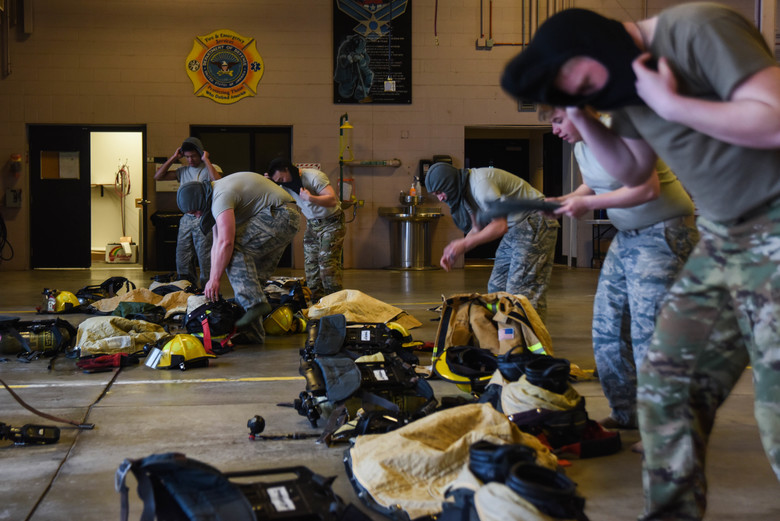 One approach some governors are considering to minimize exposure risk, according to NPR, is not allowing crews to leave their region to provide support to other departments.
When responding to major wildfires like last year's Kincade Fire, incident response teams rely heavily on mutual aid from other departments. Blocking travel between regions could have devastating effects on response efforts this fire season and magnify the impact of staffing shortages from COVID-19.
Preparing for staff, resource, and budget shortages
Developing protective practices for first responders and maintaining social distancing during incident response are essential for protecting responders' lives and well-being. However, no set of guidelines will fully eliminate the risk of COVID-19, with new spikes in infections expected until the creation of a vaccine.
Worryingly, infection rates for the coronavirus are already high: according to a New York Times analysis, about one in five New York City residents have tested positive for COVID-19 antibodies by May 2.
The risk among public safety workers, whose interactions with victims on the frontlines of the pandemic require frequent exposure to the virus, is particularly high. An article by FireRescue1 on March 13 encouraged agencies to prepare for 50 percent of their members to be directly impacted by the virus, with another 20 percent affected indirectly.
Additionally, agencies are experiencing resource shortages due to the spread of COVID-19 that further constrain their ability to protect the public.
A survey released by the United States Conference of Mayors on March 27 found that 91.5 percent of mayors surveyed did not have enough face masks for responders, 88.2 percent lacked sufficient personal protective equipment (PPE), and 92.1 percent did not have adequate testing supplies.
Although actions have since been taken to increase supplies of necessary resources, producing these resources at a pace that matches the ongoing demand has been difficult. As a result, departments have been forced to implement practices like deploying smaller response teams to limit PPE usage.
And yet, even as the need for resources and staff has increased, public safety budgets have taken major hits. CEO of the Western Fire Chiefs Association Jeff Johnson said that fire chiefs are being asked to propose 10 to 25 percent budget cuts for their departments, according to IWCE's Urgent Communications.
The combined effects of staffing, resource, and budget shortages are forcing public safety experts to reconsider fire preparedness strategies.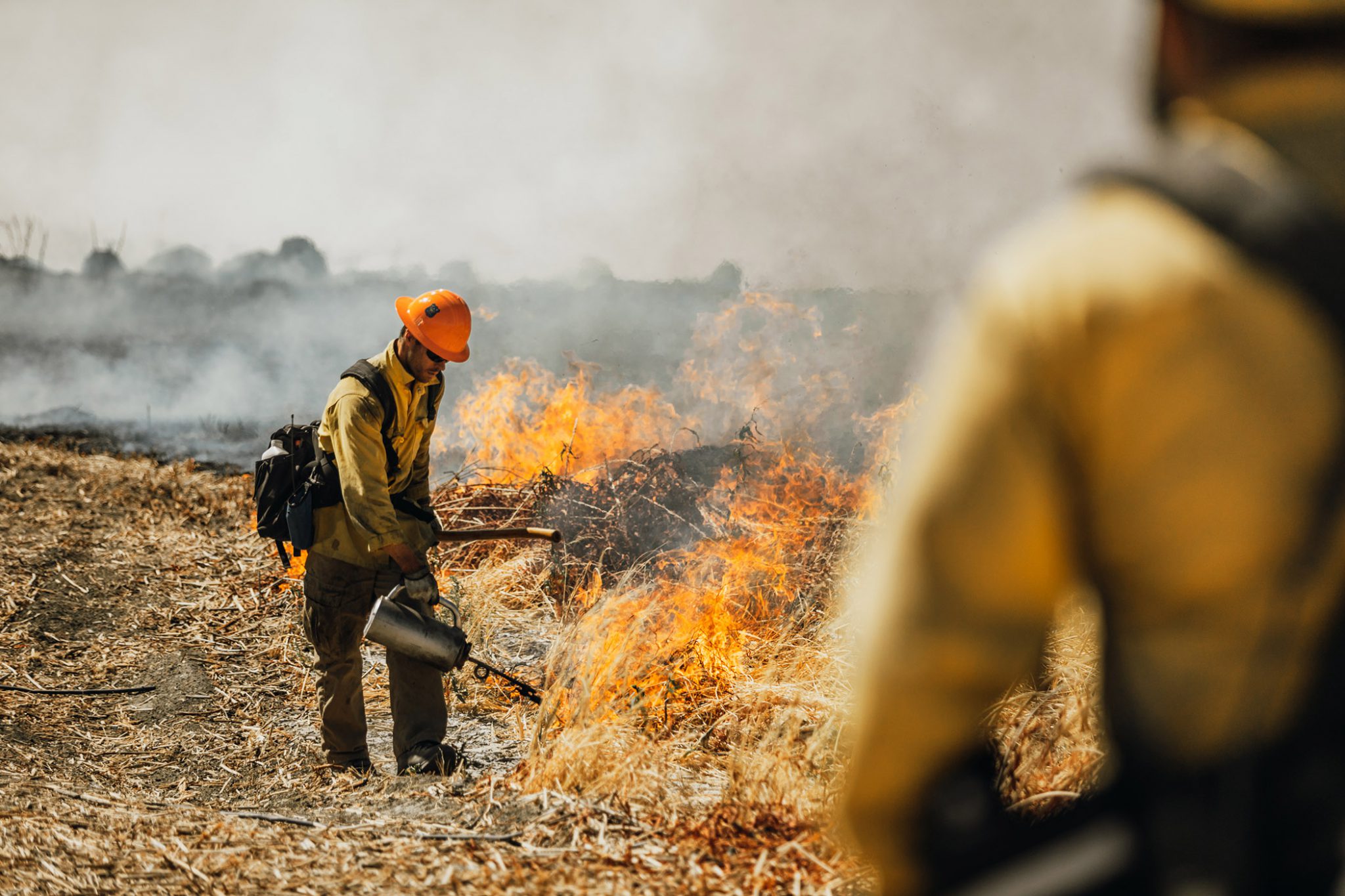 Federal, state, and county officials are calling for more aggressive fire suppression tactics, according to an LA Times report. Instead of using controlled burns, or allowing wildfires that don't pose a threat to spread naturally, public safety agencies are being asked to immediately extinguish even the smallest fires.
Monitoring wildfire spread requires substantial resources, and even a single fire spreading out of control could be devastating without the staff to contain it. Public safety shortages may require a return to traditional fire response strategies, in spite of their potential risks.
These aggressive tactics allow potential fuels to build up and make future wildfires even worse. Fire preparedness has been guided by this philosophy for much of the last century, before public safety experts began exploring new tactics in the last few decades that allow natural fires to burn away overgrowth before it becomes a major risk.
We are set to experience a wildfire season like no other, and the nature of disaster response will have to change drastically so long as the risk of COVID-19 continues.
According to most experts, returning to any semblance of normal will be impossible without the creation of a vaccine, a process which could take months or years to complete. In the meantime, the stakes for disaster management are higher than ever.
Wildfire season: A setback for coronavirus containment
As we continue to transition from the initial lockdown of the pandemic to carefully monitored reopening of social spaces, several priorities have become clear: maintaining social distancing as much as possible, allowing close tracking of exposed or infected persons, and providing ample infrastructure to socially isolate those with the virus.
The aftermath of a major wildfire like the 2018 Camp Fire would be a nightmare scenario for all of these priorities in the era of COVID-19.
The LA Times report cited above notes that wildfire smoke can severely impair first responders' immune systems by exposing them to carbon-based particles and irritant gases similar to those found in cigarette smoke.
This is likely to affect many first responders and residents alike: in 2018, people up to 200 miles south of the Camp Fire experienced weeks of poor air quality because of the spread of wildfire smoke. So long as exposure risks remain high, this could trigger spikes in infection rates and result in loss of life and further need for extensive quarantine.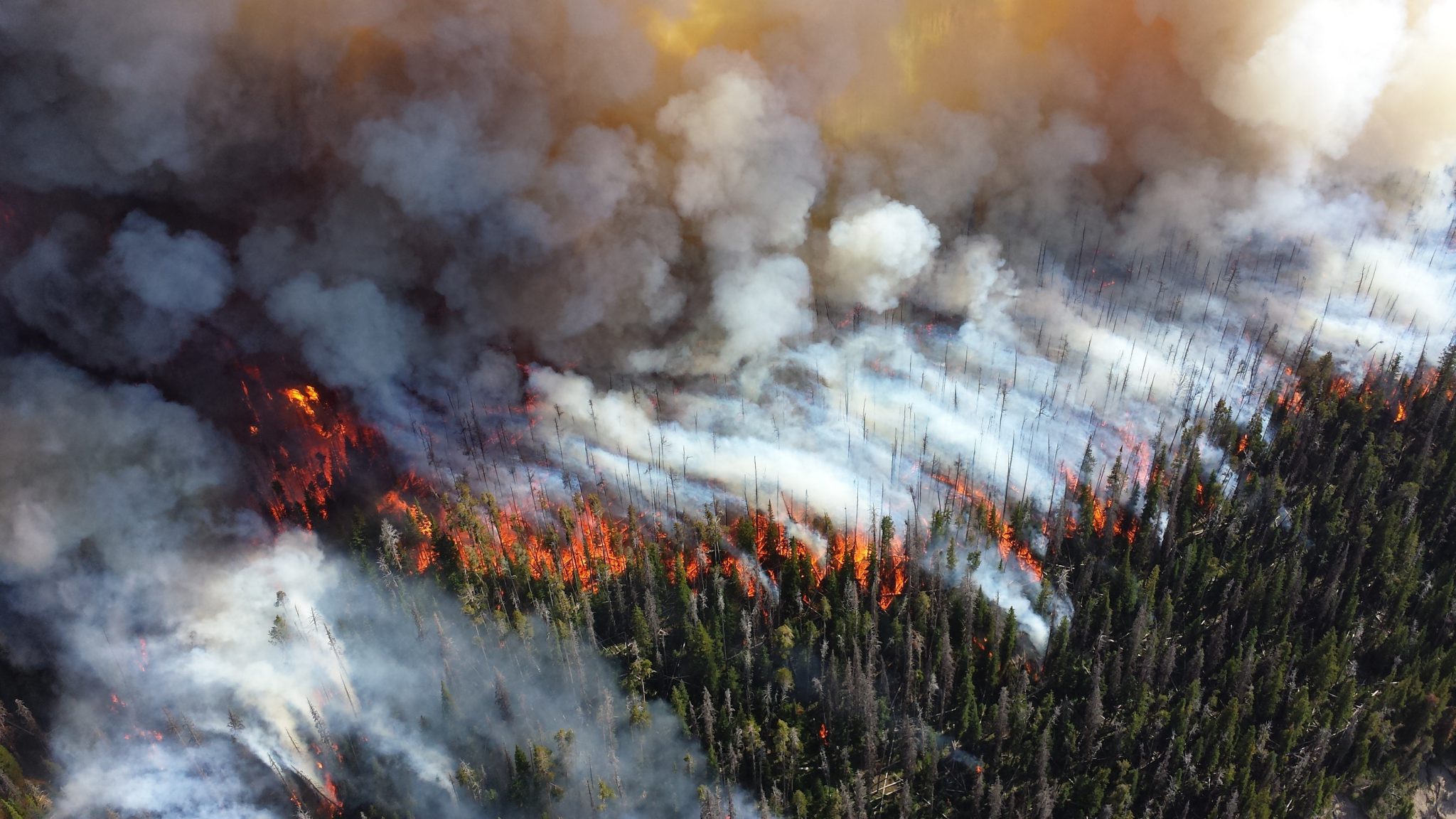 Infection risks are even higher for the thousands of individuals forced to evacuate their homes even temporarily during a major fire, as the close quarters and limited resources at evacuation centers make following preventative practices extremely difficult.
An article by the Sacramento Bee compares the risk of coronavirus spreading at evacuation sites to the norovirus outbreaks among Camp Fire evacuees in November 2018. Butte County officials reported at least 270 cases of norovirus across four separate evacuation centers during the aftermath of the fire.
This has led state officials and aid relief organizations across the nation to begin exploring alternative housing options, like unused motels or trailers, that can minimize exposure risks between evacuees. However, traditional shelters like school gymnasiums and arenas are still likely to be used during major fire incidents, according to the Sacramento Bee.
The risks posed by wildfires and other natural disasters to COVID-19 resilience create a worrying dilemma for first responders, who will already be forced to overcome unique challenges with limited staffing and resources.
Now more than ever, wildfire preparedness needs to become a shared focus for members of the public as well as first responders. Residents can take steps to fireproof their homes for wildfire season, or develop evacuation plans to maximize their own situational awareness during an incident.
Interested in learning more about bringing situational intelligence to pandemic preparedness? Click here to see how Perimeter is responding to COVID-19.
---
By Trevor Greenan. Questions? Get in touch at tgreenan@perimeterplatform.com.